Inca (Integrated Shared Care Planning Platform) is a web portal that puts the patient at the centre of care, conveniently connecting healthcare teams to better manage chronic disease and help keep Australians well and out of hospital. It allows GPs to create patient-centred, Medicare-compliant GPMPs and TCAs and conveniently share these with other healthcare providers using a secure referral system. The guided GPMP and TCA templates have been developed in consultation with the RACGP and include input from key advisory agencies such as Diabetes Australia.
Purpose of Inca
Allows patients to be active participants in their care; a patient-centred program with educated and involved clients. When patients add the Meditracker mobile app to Inca, they can have real time access to their medical records in the palm of their hands. Nominated carers can also be added as part of the healthcare team.
Reduce the administrative burden on clinical staff in managing case load by having a single source of information for all T2DM and chronic disease patients – displayed in the form of a dashboard.
Inca allows clinicians to use their skills in the most appropriate, effective, and efficient way; an integrated, multidisciplinary approach.
Patient engagement from a safe distance - patients feel safe knowing they're maintaining a dialogue with their GP by communicating through the mobile app or web portal. Patients can regularly add measurements via Bluetooth enabled devices from the comfort of home, such as weight, blood pressure, blood glucose, temperature, pulse rate and blood oxygen saturation levels.
Inca increases access to services (both screening and management) through team care; shifting the focus away from hospital-based care and allowing patients to manage their own care.
Programs are underpinned by an elective shared health record. Inca seamlessly allows GPs to manage GPMP and TCA contributions and approvals with external care team providers such as allied health professionals, diabetes educators, specialists and the like, all within one convenient record.
Traceable care that allows patient interaction to be tracked from a single system.
Best of all, the Inca platform integrates seamlessly with your practice software (Best Practice, Medical Director, Communicare and ZedMed). This means patient data in your practice software automatically populates key demographic and clinical data against the patient account in Inca to create an online shared care health record. Any documents added to the record in Inca from external care team providers can be downloaded and added to your practice software patient file at any time.
The platform also hosts a number of assessment forms. These assessment forms are completed by clinical staff during a face-to-face or telehealth consultation, after the patient's account is created in Inca. The clinician dashboard in Inca, upon completion of this self-assessment form, will display results for the clinician to review clinical progression.
Clinical Workflows in Inca
Given Inca produces personalised digital care plans and automatically generates and distributes key documents, it is important to understand the roles the care team members perform in delivering a Medicare-compliant GPMP + TCA. Click here to download an example of an Inca GPMP + TCA Workflow.
Nurses/GPs – Primary clinical users and Inca license holders. Responsible for sitting down with patients to build, review and approve clinical or patient-centred GPMP + TCAs. Process starts with pushing patient's medical record and chronic disease diagnosis data from their clinical information system (CIS) to Inca via the Precedence Connector App.
Patient – Patient, and/or a nominated Carer, are automatically added as part of the care team and given their own access to Inca. Extended family or support carers can also be added as a care team member.
Allied Health/Specialist – As part of the care team, external clinical professionals, when assigned as a care team member in Inca, are automatically given access to the Inca account for that patient. If an external Allied Health or Specialist clinician is assigned a treatment in a care plan and a TCA generated, they'll automatically receive an Inca link to review the care plan, GP summary medical record and a prompt to approve or decline the TCA. If the external care provider's email is set as default, then all TCAs for this provider can be conveniently tracked and managed electronically via Inca, streamlining and improving document approval processes.
GP and other external care provider administration support staff can also have access to assist clinical staff with workflow management, such as chasing GPMP + TCA approvals and downloading shared documents from Inca for upload to internal CIS (or patient management systems – PMS).
Nurses/GPs can decide, using a check box in Inca, whether they want to share pathology/medications in the patient record with external care team providers or not. Any information flagged as 'confidential' in the CIS will not be pushed to Inca.
Getting started in Inca
First, make sure the entire team understands the importance of Shared Care Planning and the role Inca plays in the long-term management of patient care to prevent hospitalisations. Inca doesn't replace the role your practice software plays in maintaining a constant source of truth for a patients' medical status; it only enhances it, allowing GPs to increase collaboration between team care clinicians and their patients.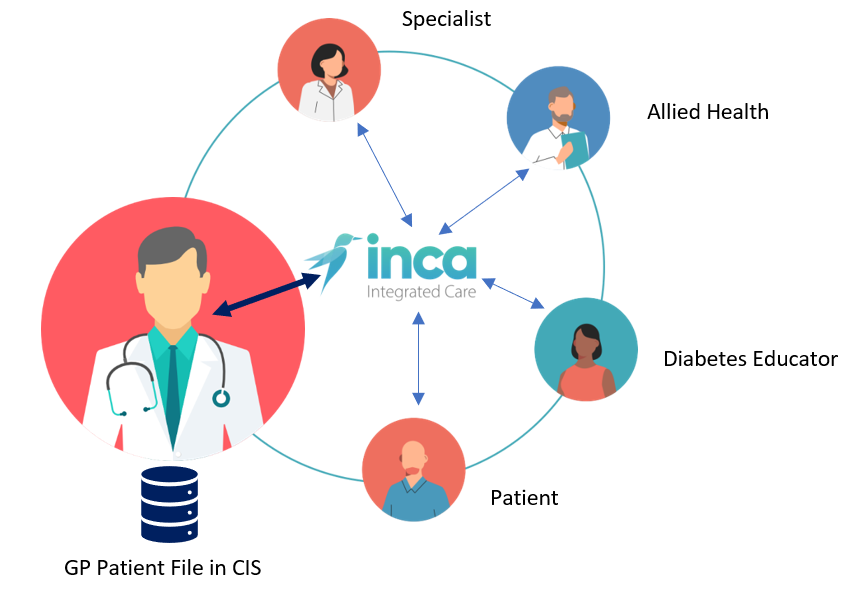 Determine roles and responsibilities for Shared Care Planning. Nurse staff who will take lead on triaging reviews and creation of GPMPs and TCAs. Admin staff who will regularly assist with chasing external care team responses to GPMP and TCA approvals. Ensure all GPs understand that GPMPs and TCAs can be managed via Inca notifications.
Register all user accounts with Inca Support Team on this registration form
Inca Support team can schedule a time to assist your IT Support resource to install the Precedence Connector App. This app is the middleware, essential in linking your practice software with the Inca platform in real time.
Once the Precedence Connector is installed and operating, it's time to arrange user training. The Inca Support Team will coordinate initial training workshops with all users. The WNSW PHN Digital Health team is also available to assist on the ground with more detailed user training and optimisation of workflow practices and learning.
Your Local Digital Health Team is here to help
For more information or to register a license, contact:
Brenton Jones
Digital Health
Email: brenton.jones@wnswphn.org.au
Mobile: 0418 861 918