Building Partnerships Project
Building Partnerships funded by NSW Health is a project aimed at ensuring vulnerable older people with complex health needs in Dubbo have access to a coordinated and seamless pathway to access the right care at the right place and in the right times by 30 June 2016.
Background
The Number of older persons with complex health needs are growing. In Western NSW there is expected to be a 29% growth in projected population aged 75+ over the next 10 years. The level of resources required to fund these increased inpatient services is projected to grow by approximately 3% per annum and would total at least $498m over the next 10 years. If no changes are made the older persons care will continue to be provided services by multiple partners in a fragmented health & community environment.

Better Health Care Connections Program - Resident GP Video Connect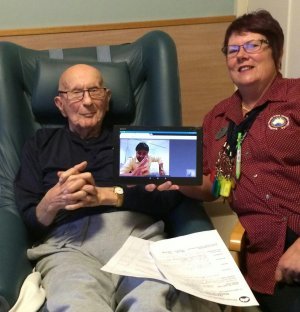 The Better Health Care Connections (BHCC): Aged Care Multidisciplinary Care Coordination and Advisory Services programme (Resident GP Video Connect) is a pilot project funded by the Department of Health to enhance multidisciplinary care activities supporting older Australians with complex health needs who would benefit from higher levels of coordinated care by establishing a model of care where a General Practitioner (GP) provides consultations via videoconferencing to residents in Residential Aged Care Facilities (RACF).
Healthdirect Australia is our video consultation partner and provides a set of world-class consumer video consulting tools and services built for Australian health care delivery.  
The Broken Hill project involves three Southern Cross Care (Broken Hill) Ltd facilities - St Anne's Nursing Home, Harold Williams Home and Aruma Lodge - and GPs from Nachiappans and GP Super Clinic Group. The Dubbo Project links GPs from Dubbo Family Doctors and two Catholic Health Care Facilities - St Mary's Villa and Holy Spirit Aged Care.
For further information on this program please download the following resources:
Contact:  Rekha Pillai, Aged Care Coordinator (Broken Hill) Phone 1300 699 167, Email rekha.pillai@wnswphn.org.au 
Dubbo Complex Aged Care Navigation Project
During March 2015 a partnership was established between the then Western NSW Medicare Local (now WNSW PHN), the Western NSW Local Health District, Care West, Ambulance, Multipurpose Allira Gathering Associations (Aboriginal representation) and Lourdes Hospital with the development of a Shared Governance and Vision. Due to limited resources and time frames (March 2015 - June 2016) the partnership decision was to build onto the successful 'Connecting Care Program' model of care (improved communication pathways between acute, general practice and other primary care service providers using a shared care plan and access to care coordination support).
The focus would be vulnerable older persons (living outside a Residential Aged Care Facility) with complex health needs in Dubbo.
The Partnership was responsible for identifying strategies, planning, delivering, reflecting and evaluating changes made to enhance the patient journey across the various and varied health services.
The aims of the project are:
To improve patient outcomes and service delivery through enhanced collaboration and regular communication.
Reduce unplanned admissions to Dubbo Health Service for older people with complex health needs aged 75+.
To ensure targeted older persons and their carers are identified and facilitated to access a seamless patient journey.
To develop a collaborative partnership with external health service providers and internal LHD providers.
The process to identify issues included, mapping the patient journey, collecting data and patient stories and understanding the system that older people and stakeholders are required to navigate; Issues identified were:
| | |
| --- | --- |
| Inconsistent assessment | Lack of updated information |
| Coordination responsibility blurred | GPs unsure of referral guidelines |
| Multiple care plans | Older person unaware of available services |
| Plans not shared with clients | Uninformed service provider |
| No access by Ambulance to Care Plan | Inadequate end of life planning |
| Lack of communication between service providers | Lack of appropriate palliative services |
A rigorous process including patients, carers and all service providers involved in the patient journey prioritised the following solutions which related to all components of the persons health journey to commence work on :
Formalising partnerships
Identifying and implementing a single assessment tool for care navigation
Developing a Shared Care Plan process
Key activities completed by December 2015
Established Aged Care Partnership. Partners include Ambulance, Care West, Lourdes, General Practice, LHD Aged Care Services & WPHN.
Aged Care Quick Reference Guide - noted as a quick win to enhance communication between service providers, confirm service referral guidelines and provide updated information on services availability.
Key activities planned to June 2016
Working groups involving; Ambulance, Care West, Lourdes, General Practice Nurse and GP, LHD Aged Care Services CNC, ACAT, WPHN, LHD redesign team, Project lead from Cowra Integrated Care Strategy and LHD IT support.
Assessment tool for navigation (accessible by all service providers)
Shared Care Plan (shared between multidisciplinary team)